ONSTAGE-
"Empowering young migrants by employability skills through biographic work and elements of drama"
http://www.onstage-project.eu/en/the-project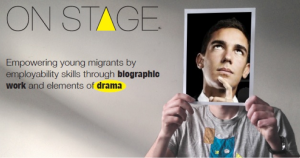 This project is supported by the European Commission through the LLP programme
Project period is from 1. november 2013 to 1. november 2015,
 Project number ; 2013-1-NO1-LEO05-06159
All over Europe, unemployment figures among young people (16-25) are alarmingly high. More than 50% of Spanish youngsters are out of job (EUROSTAT 12/2012). The situation in Greece and Portugal is currently developing into a similarly bad direction: in Greece, for instance, 60% of all unemployed are under 25 (Greek National Labour Institute 2012). Even in Austria, the percentage of young unemployed is considerably higher than the overall unemployment (almost 10% for young, compared with an overall 4% in AT; Statistik Austria, 2012). Strikingly, among these young unemployed, the group of those showing a migration background is overrepresented (for example 7% in Norway, statistisk sentralbyrå 2012). Young migrants (no matter if first or second generation) do generally show higher school dropout rates, considerably lower participation in higher and further education and, as a consequence, receive less access to high-profiled jobs, which often makes their economic and social inclusion much more difficult. This challenging situation described applies for all countries the ON STAGE project brings together: NO, EL, ES, PT and AT. In some of these, high unemployment among young (especially migrants) has led to enormous social conflicts and even riots (EL, ES). At the same time, general social aggression in these countries is often turned against migrants.
Educational concepts focusing on the empowerment of young migrants and dedicated to positively make use of their particular situation and their migration background for efficient, practical, motivational and joyful acquisition of emploability skills are still rare or at least not implemented enough. Correspondingly, investigations in preparation of this project, above all analyses and surveys carried out by the VET providers in this consortium, have revealed that the vast majority of teachers, trainers and counsellors in the above mentioned countries are not sufficiently equipped with respective approaches and instruments. The ON STAGE project wants to provide concrete solutions for this need by introducing new forms of empowerment into VET and counselling (for selected and particularly relevant work sectors: construction, health care, retail, tourism and transportation/ storage), more concretely by combining biographic approaches with drama techniques when working with the target group described.
RSBDF's main responsibility will be to lead the exploitation of the OnStage project
Partnership :
ROGALAND KURS OG KOMPETANSESENTER NO – NORWAY  – Promoter  www.rkk.no
BEST Institut für berufsbezogene Weiterbildung und Personaltraining GmbH – Austria – Coordinator  www.best.at
INSTITUTE OF TRAINING AND VOCATIONAL  GUIDANCE – Greece
Instituto para el Fomento del Desarrollo y la Formación S.L – Spain
Rogaland school and business development foundation – Norway
Instituto de Soldadura e Qualidade – Portugal